DGA STONE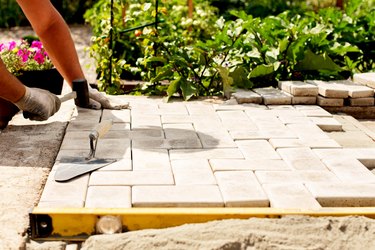 DGA Names: DGA (dense graded aggregate), ¾" well graded aggregate, ¾" QP (quarry process), ¾" dirty stone, ¾" blend, ¾" shoulder stone, ¾" crusher run, Item 4 sub base, Type II Subbase, subbase, and virgin general fill
Stone Size:  Well blended stone typically ¾" minus providing good compaction with suitable drainage
DGA Stone is available picked up at our plant or delivered to your job site. There is a 20-ton minimum for bulk delivery. For pricing call, us at (718) 494-8100.
Stone Calculator: DGA stone is sold per ton and is generally 1.5 tons per 1 cubic yard loose in truck.
DGA CRUSHED STONE USES

Makes an ideal material for use as a base in high-traffic areas such as roadways, driveways, bike paths, walkways and paving block projects.
There are many uses for DGA stone:
Road base
Base material for concrete pavers
Base material for asphalt driveways, walkways and bike paths
Base material for interlocking walls
Fill material
Borrow Fill
DGA can be used by state municipalities, parks departments, builders, landscapers, landscape suppliers, masonry suppliers and contractors, paving companies, nurseries, garden centers, private contractors and homeowners. Safe for use around schools, playgrounds and homes
Other items available upon request
Call us at (718) 494-8100
1 ½" Stone – Railroad ballast, #3 stone
Rip Rap – 3"- 5", 4"- 8", 6"- 12"
Special blends
RCA – ¾", blend